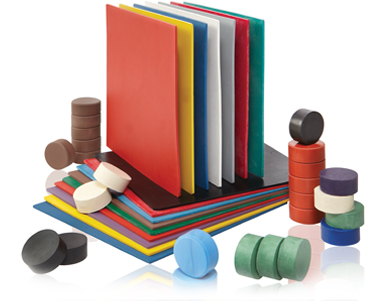 Rubber
Why search here and there for rubber compounds when everything you need is right here with one convenient resource. PSP has developed almost 500 different rubber compounds in different hardnesses and materials to meet nearly every conceivable requirement. Does your application demand unique capabilities and/or properties? We'll create a compound just for you!
The tables below outline the most typically specified rubber compounds, plus an overview of many of our specialty rubber materials. The information below is generalized and abbreviated due to this site's limitations. You can easily get more specific information and expert advice  by speaking directly to one of our experienced compound professionals. Call or email us at sales@pspglobal.com.
PSP COMPOUNDS

---

Aflas® (AGC Chemicals)
TFE/P
Butyl Rubber
IIR
Carboxylated Nitrile
XNBR; CNBR
Chloroprene Rubber
Neoprene® (duPont); CR; polychloroprene
Ethylene Acrylic Rubber
Vamac® (duPont); AEM
Ethylene Propylene
EP; EPDM; Vistalon® (ExxonMobil)
FEP/PFA Encapsulated O-Ring
Teflon® Encapsulated O-Ring
Fluorocarbon Rubber
Viton™ (DuPont); Dai-El® (Daikin); FKM
Fluorosilicone Rubber
Silastic® (Dow Corning), FMQ
Highly Saturated Nitrile
HNBR; HSN; Therban® (Bayer)
Natural Rubber
NR; Hevea
Nitrile Rubber
Buna N; NBR; Paracril® (Uniroyal)
Polyacrylate Rubber
Polyacrylic; Hycar® (Goodrich); ACM
Polyurethane
AR; EU; Adiprene® Vibrathane® (Uniroyal)
PTFE
Teflon® (duPont)
SBR
SBR; Duradene® (Firestone)
Silicone Rubber
Silastic® (Dow Corning); MQ; VMQ; PMQ
Viton™ ETP (duPont)
Viton "Extreme"
SPECIALTY COMPOUNDS
---
Internally Lubricated
FDA Compliant
NSF 51 Certified
NSF 61 Certified
UL Recognized
H4 Compliant Compounds
Viton™
3-A Sanitary Compliant