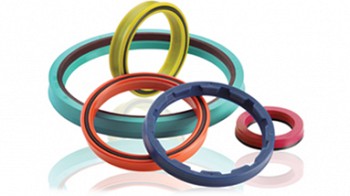 Rod Seals
Rod seals are the most important component in a cylinder application. Operating in the harshest service conditions, if the rod seal fails, fluids leak into the operation which endangers both performance and safety.
Crucial factors for any rod seal include:
It operates as a dynamic seal within its inner diameter, while it's static along the outer diameter.
Changes in the rod surface and fluctuations in fluid temperature directly affect the rod seal.
It often experiences the greatest pressure variations, or spikes, in the system.
PSP offers numerous rod seal options, based on the system's pressure level range and the fluid compatibility.