Kalrez®: Availability of O-rings, Seals and Other Parts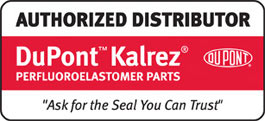 Kalrez o-rings are available in standard AS-568A and metric sizes. The lead time on Kalrez parts is 4 weeks.
DuPont™ is able to make customized cross-section and diameter dimensions of Kalrez parts to your specifications using their patented o-ring splicing technology. They also design and mold custom shapes to your specific requirements. Typical custom shapes include valve seats, diaphragms, gaskets, packer seals, T-seals, column fittings and more.
Custom parts and components with unusual geometries can be designed and molded in Kalrez to meet the needs of specific sealing applications. Examples include special profiles and rectangular-shaped seals for slit valves and windows, metal-bonded parts, profiled quartz tube seals, diaphragms, lip seals, hollow o-rings, tubing and other specialized configurations.
UltraPure™ compounds are available for reduced contamination requirements.
Kalrez parts that meet mil. specs, food grade specs and pharmaceutical specs are also available. Call us at 303-758-2728 to talk about what you need.
DuPont™ and Kalrez® are trademarks or registered trademarks of E.I. du Pont de Nemours and Company or its affiliates. All rights reserved.