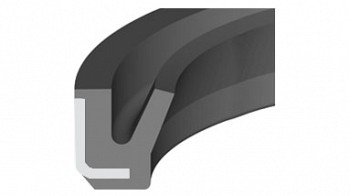 METAL CLAD
Metal clad wipers are similar to standard metal clad wipers, however they also feature a stainless steel spring to energize the lip. This permits the wiper to operate well in heavy-duty applications and tough scraping environments.
Of all PSP's wipers, metal clad models are the most durable, longest lasting heavy-duty wipers. They are chiefly assigned to tough scraping environments, and the inside metal ring is pressed to fit into the gland groove. Depending on the required application and amount of wiping action, PSP offers four different metal clad wiper designs.
The stainless steel spring and unique lip design make the urethane metal clad wiper highly effective in severe service applications. The maximum velocity is 3.3 ft/sec, and the temperature range is -50F to +250ºF.