Kalrez O-Rings and Seals
Kalrez TriLobe™ Seals
Longer Seal Life With a Unique Seal Design Plus Kalrez Superior Material Performance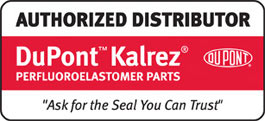 The seal life span in dovetail grooves has been extended by DuPont's new seal design, the Trilobe™ Seal. In this design the excellent chemical, thermal and plasma resistance of Kalrez perfluoroelastomer parts is combined with a unique cross-sectional shape that eliminates many of the problems associated with semi-dynamic seal applications using a dovetail groove. These problems include installation difficulties as well as short seal life and particle generation due to seal wear and degradation.

Features and Benefits of the TriLobe™ Seal
Molded notch makes installation a snap!

Reduces installation time
Avoids improper installation

Geometry interlocks in groove to prevent seal from rolling and twisting during installation.
Bottom lobes lock seal in place to resist pullout and movement during actuation.
Seal parting lines are maintained below the flange surface, eliminating direct exposure to plasma or process chemicals.
Seal design and compound selection combine to yield REDUCED PARTICLE GENERATION and SIGNIFICANTLY INCREASED SEAL LIFE!
Typical TriLobe™ Seal Applications
Slit valve doors, gate valves and other semi-dynamic sealing applications that utilize a dovetail groove configuration.
Proven Performance
During the evaluation phase for this new product, samples were submitted for evaluation at OEMs and FAB lines. Initial evaluations have focused around slit valve door seal applications in a variety of processes using different equipment platforms. The response has been overwhelmingly positive. FAB lines are delighted with the ease of installation. Moreover, some customers have reported as much as 3X improvement in seal life over that of a standard O-ring configuration. Experience the difference and increase your mean time between failures.
Availability
Molds have already been developed for a number of common slit valve door seal part sizes.
A Kalrez TriLobe™ seal can be developed to fit any size dovetail groove.
The TriLobe™ seal is available in a variety of Kalrez compounds. As an authorized distributor, we can help you determine the best compound to optimize seal performance for your set of process conditions.
Contact us for pricing and availability.
The information set forth herein is furnished free of charge and is based on technical data that DuPont and Problem Solving Products, Inc. believe to be reliable. It is intended for use by persons having technical skill, at their own discretion and risk. Handling precaution information is given with the understanding that those using it will satisfy themselves that their particular conditions of use present no health or safety hazards. Since conditions of product use and disposal are outside of our control, we make no warranties, express or implied, and assume no liability in connection with any use of this information. As with any material, evaluation of any compound under end-use conditions prior to specification is essential. Nothing herein is to be taken as a license to operate or a recommendation to infringe on any patents. While the information presented here is accurate at the time of publication, specifications can change. Check with us before making a decision about which product to use.
DuPont™ and Kalrez® are trademarks or registered trademarks of E.I. du Pont de Nemours and Company or its affiliates. All rights reserved.