Zalak® O-Rings and Seals
Photovoltaic Solutions To Boost Solar Cell Efficiency
Photovoltaic Energy is the science of converting light into electrical energy, and is achieved through the use of semiconductors, or photovoltaic solar cells. The cell assemblies are encapsulated into water tight modules for protection from moisture and impact. The resulting assembly is referred to as a solar panel or module. The principle components of a crystalline silicon photovoltaic module are the glass glazing, cross-linked ethylene-vinyl acetate (EVA) encapsulant, the silicon wafers and associated wiring, a protective backsheet, and a junction box.
Zalak® High Performance Seals
DuPont™ Zalak seals joined the Kalrez perfluoroelastomer product line in 2010 as a cost-effective alternative in select applications where traditional sealing materials are insufficient. Zalak 5300 seals are specially formulated for use in plasma environments, such as edge isolation, ARC coating in crystalline cell manufacturing, TCO sputtering deposition, and selective a-Si PECVD applications in PV cell manufacturing. Zalak seals are only sold through certified distributors, such as Problem Solving Products.
As PV manufacturers use more aggressive and efficient chemicals, such as nitrogen trifluoride (NF3), and oxygen (O2) plasma to increase uptime and improve output, more strain is placed on the manufacturing process. Materials traditionally used in PV manufacturing, like silicone, fluorosilicone, and standard fluoroelastomers can degrade quickly in harsh conditions causing unplanned maintenance due to incompatible sealing materials.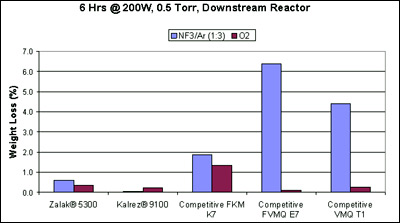 In addition to its excellent plasma resistance, Zalak 5300 seals offer:
good resistance to "dry" process chemistry
excellent compression set properties
low stiction (sticking)
very low particle generation
For static and low-sealing force applications, like chamber lid seals and gas inlet seals, Zalak 5300 seals are an excellent upgrade from standard sealing materials. Contact Problem Solving Products, Inc. for the availability of sealing shapes or sizes.
DuPont™ and Kalrez® are trademarks or registered trademarks of E.I. du Pont de Nemours and Company or its affiliates. All rights reserved.