Industries That Use Kalrez Perfluoroelastomer O-rings and Seals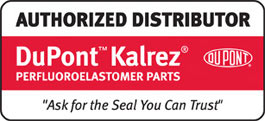 For over 25 years, Kalrez perfluoroelastomer o-rings and seals have been providing the ultimate in sealing performance in the harshest processing environments. Some of the industries and applications in which Kalrez parts provide superior performance include:
Chemical Processing
In pumps, valves, reactors, flange joints and other equipment, Kalrez parts—whether O-rings, custom shapes or valve stem packing systems—are proving their value year in and year out as the best choice for long-term, reliable service. Many sealing applications in this industry require high heat and aggressive chemical resistance. Chemical Processing Industry
Semiconductor
The success of perfluoroelastomer o-rings and seals have been field-proven in the manufacture of semiconductors, where processing steps can involve extremes of both thermal and chemical exposure. These parts reduce contamination from particulates, outgassing and extractables caused by seal deterioration. Semiconductor Industry
Food and Pharmaceuticals
Food and Pharmaceutical applications require the ultimate in cleanliness and perfluoroelastomer parts provide that along with excellent sealing performance in a wide range of aggressive media over a broad range of temperatures. The introduction of FDA-compliant Kalrez compounds offers a new standard of sealing solutions with full traceability, low contamination from extractables and excellent seal life. Pharmaceuticals and Food Industries
Oil and Gas
Kalrez parts stand up to severe down-hole conditions—from high pressures and temperatures, to aggressive sour gas and corrosive fluids. Oil and Gas Industries
Whether you are in the chemical processing industry, oil and gas, wafer processing or thousands of other demanding applications, these seals can extend your mean time between failures and reduce your risk of seal failure.
DuPont™ and Kalrez® are trademarks or registered trademarks of E.I. du Pont de Nemours and Company or its affiliates. All rights reserved.