Kalrez® O-Rings, Seals and Parts - Semiconductor Industry
Choose Kalrez For Aggressive Semiconductor Processing Environments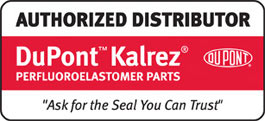 The success of Kalrez perfluoroelastomer parts have been field-proven in the manufacture of semiconductors, where processing steps can involve extremes of both thermal and chemical exposure. Since purity is critical to high semiconductor wafer yield, reducing contamination from particulates, outgassing and extractables caused by seal deterioration is a major goal of semiconductor fabricators. With Kalrez, manufacturers gain seal integrity and process purity that is backed by more than a quarter century of success.
Chemical resistance that is nearly universal, coupled with superior high-temperature properties, enables Kalrez parts to withstand virtually any process media, including plasma with various gases at temperatures up to 327°C.
By selecting the compound for Kalrez parts that is best suited to a specific application, processors can improve seal performance in all wafer-fabricating operations, including thermal, gas deposition, plasma etching and ashing, and wet chemical systems. All Kalrez parts for semiconductor applications are UltraPure post-cleaned and packaged in a Class 100 clean room for reduced contamination.
Process Environment
Kalrez®
Sahara™
8085
Kalrez®
Sahara™
8002
Kalrez®
7075
UP
Kalrez®
Sahara™
8475
Kalrez®
6375
UP
Etching/
Ashing
Suggested
Product
Alternate
 
 
 
CVD
Suggested
Product
Alternate
 
 
 
Thermal
 
 
Suggested
Product
Alternate
 
Wet
 
 
 
 
Suggested
Product
Users of Kalrez have the assurance of quality and traceability of all parts made at the company's ISO 9001/9002 and AS 9100-registered facilities in the U.S. and Japan. No other high performance seal manufacturer offers this total control over product quality and end-use applications.
DuPont™ and Kalrez® are trademarks or registered trademarks of E.I. du Pont de Nemours and Company or its affiliates. All rights reserved.